From symbol of friendship to legend
The idea for brewing Hopfenreiter was born in 2016. Since then, the beer community always starts getting exited weeks before the release date for this beer, which has almost aquired a legendary status meanwhile. Our friendship brew batch is intended to show that we see other breweries not as competitors but as friends. More and more well-known brewers from around the world have started contributing rare or still unknown hop variants to our Double IPA which means that the Hopfenreiter's smell and taste changes on a yearly basis. Six different types of hops take you on a wild ride through the garden of hops!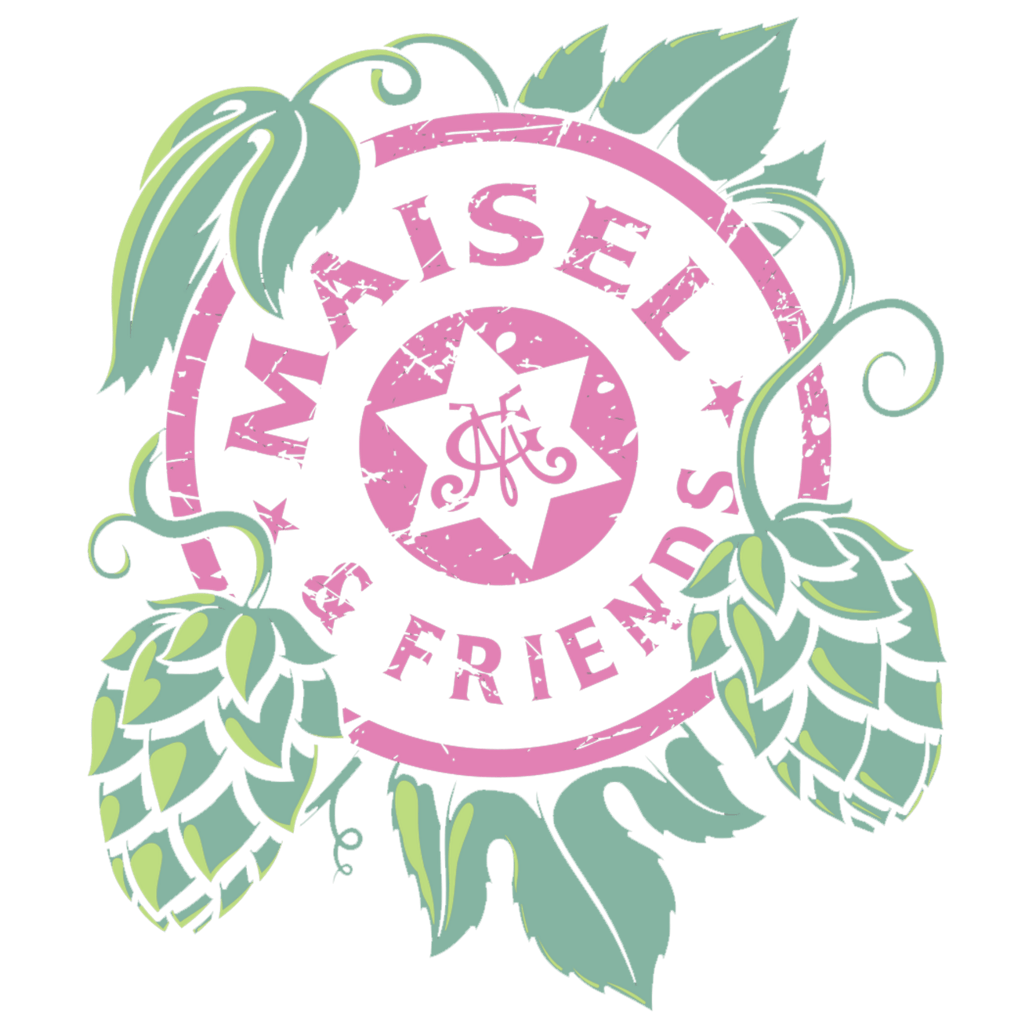 Serving temperaturePerfect at a temperature of 8 - 10°C.

TasteTropical-fruity with aromas of orange, coconut, pineapple, citrus, grapefruit, peach, apricot and a touch of red berries. The bitterness at the finish reminds of spices like pepper and a touch of chilli

ColorGolden orange to amber colored

Food pairingBurger, spareribs, Indian or Thai curry
IngredientsFichtel Mountain water, barley malt, hop, yeast

ABV8.5%
Original Gravity18.8° P
IBU70
FermentationTop-fermented
HopsGalaxy, Sabro, Souther Passion, Idaho 7, HVG special breeding variety 04
MaltsChoice selection of barley, caramel and roasted malts
YeastTop-fermenting ale yeast
color:
Fruitiness:
Bitterness:
Malt:
Abv:
Saddlebags filled with the full hop power
Our Double IPA shows a golden-orange to amber color in the glass. Its foam is marvelously creamy with a perfect volume. Due to the many different hops used there is a constant flow of new aromas that unfold - this beer specialty appeals to all senses. There is a wide variety of fruit aromas on the nose, ranging from tangerine, stone fruit, peach, mango, passion fruit, and grapefruit to pineapple and a bit of honey.

Every sip reveals new notes, influenced by a rise in the beer's temperature and the exposure to air. The bitterness at the finish reminds of spices like pepper or chilli.

The grand finale is marked by exactly those characteristics that many IPA aficionados cherish so much: a great, crisp bitterness with a fantastic, dry mouthfeel. So, let the next sip follow instantaneously!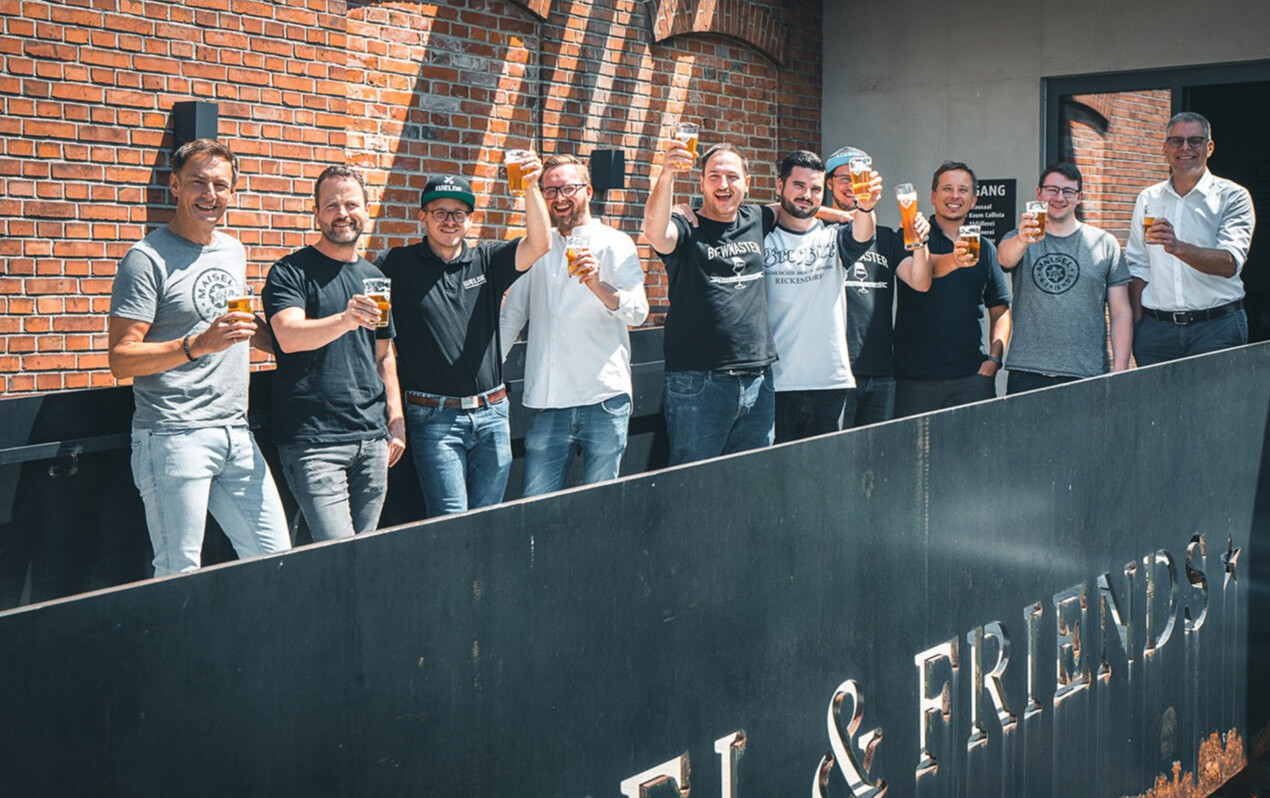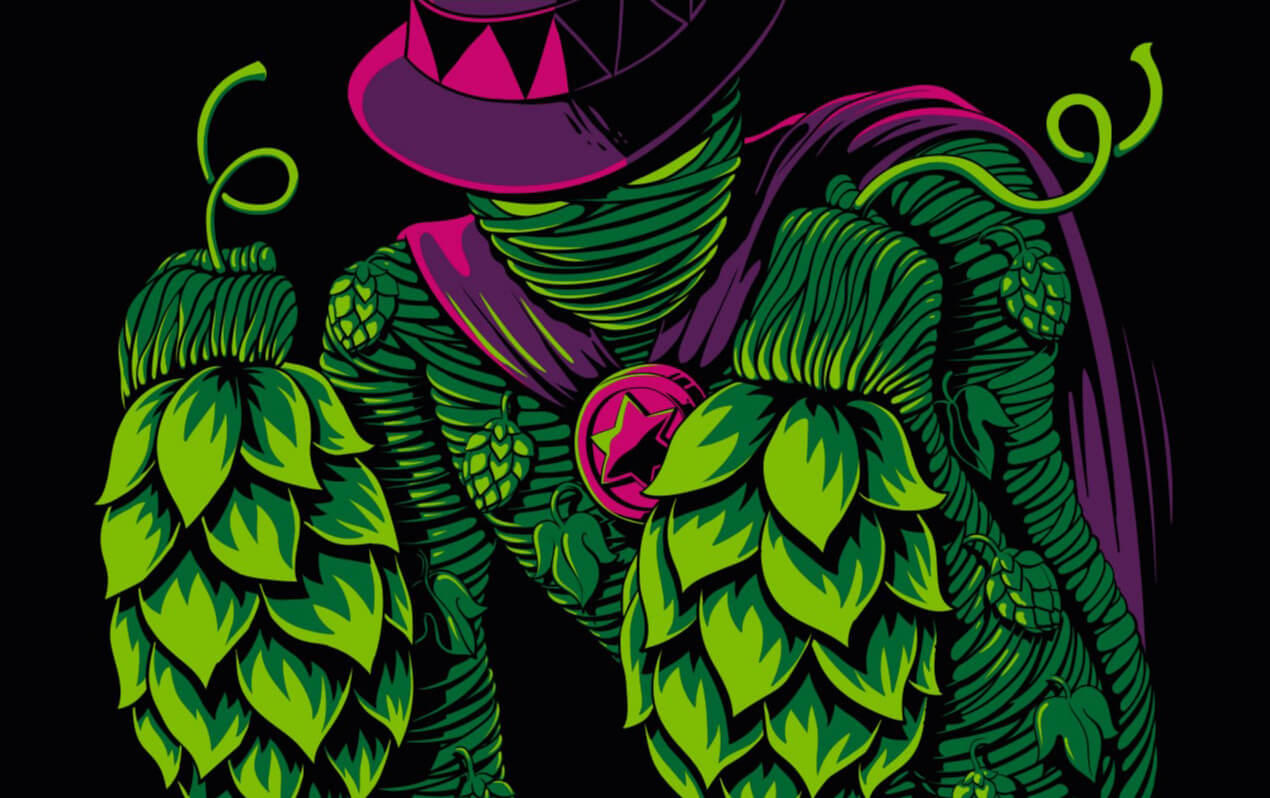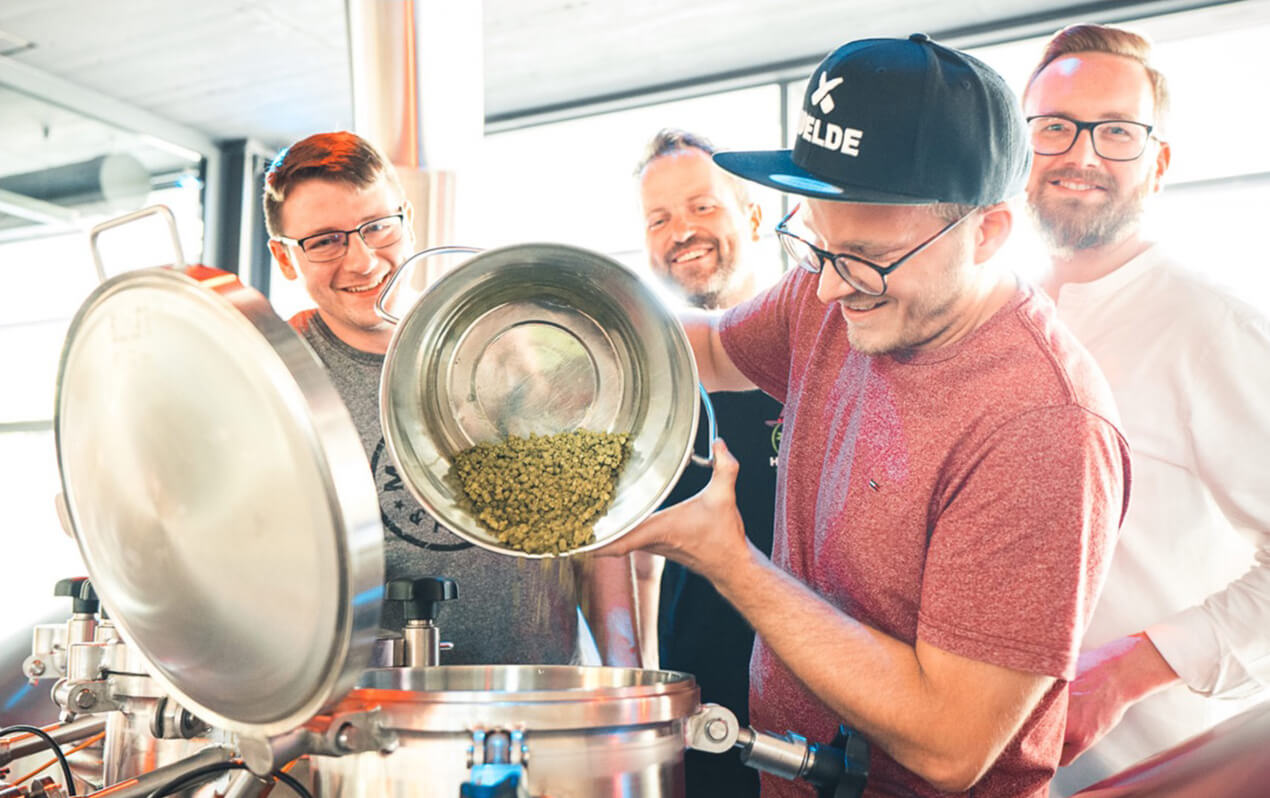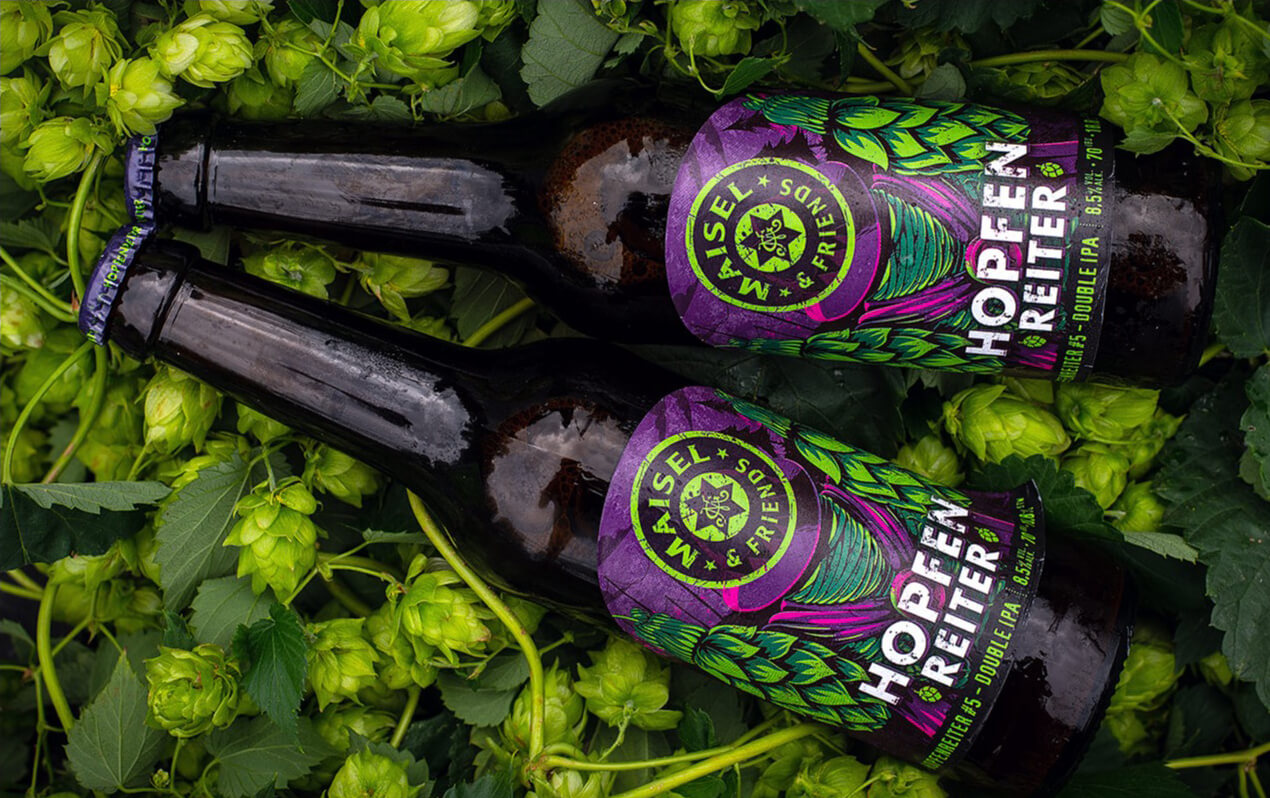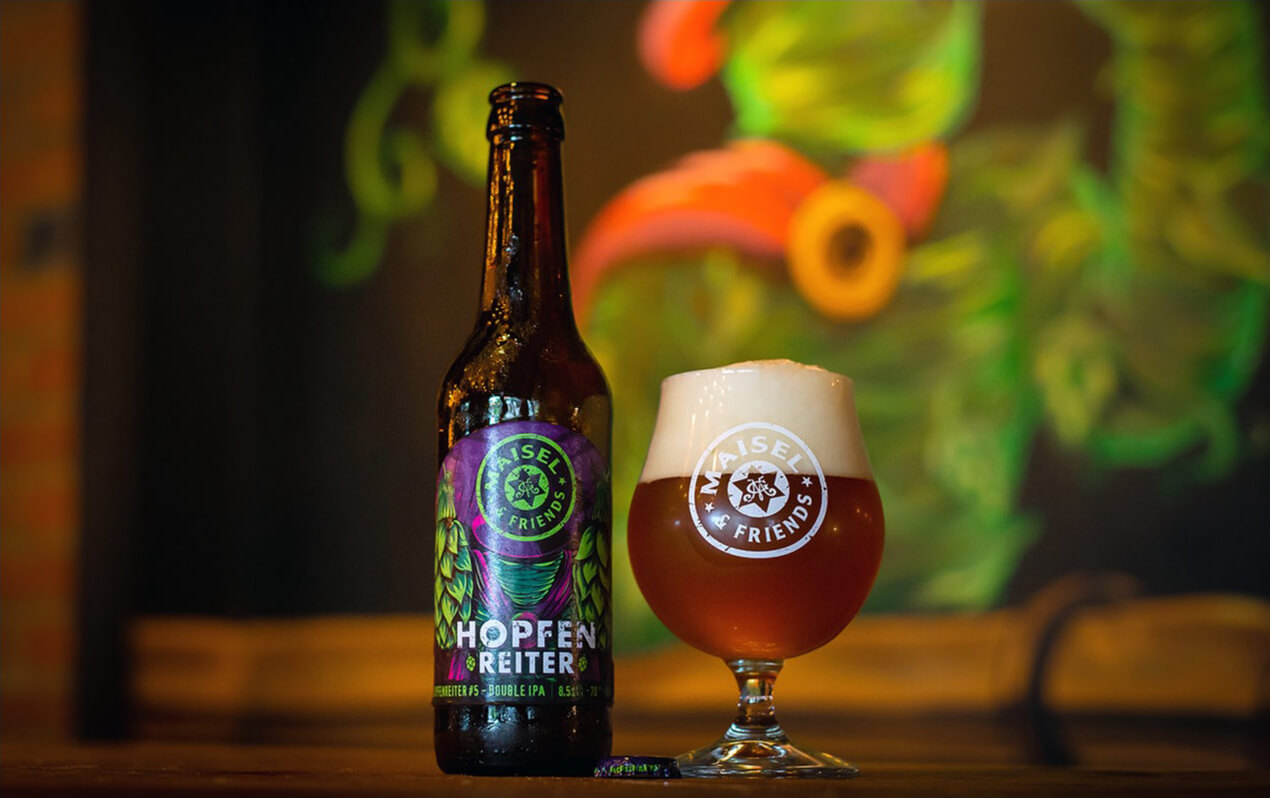 Hopfenreiter is, of course, a Double IPA as every year. But its taste and smell does change on a yearly basis as our brewer friends permanently contribute new and partly very exotic hops. In 2021, the hops used and the breweries who contributed to the beer and of whom some of them were present on the day of brewing, were:
Enigma of Welde Braumanufaktur (Germany)
Galaxy of Braumanufaktur Hertl (Germany)
Sabro of Brobier Brewing (Germany)
Southern Passion of Tanker Brewery (Estonia)
Idaho 7 of Firestone Walker Brewing Co. (USA)
HVG special breeding variety 04 of Maisel & Friends (Germany)
Our previous Hopfenreiter beers: